Upholstery cleaning to remove stains on well loved furniture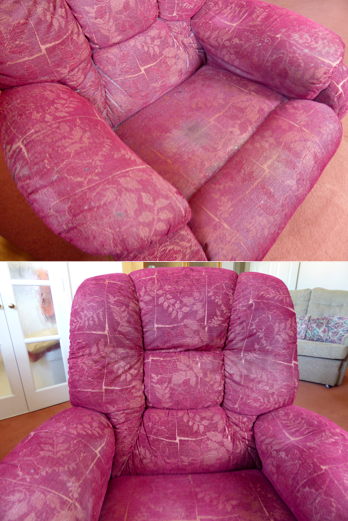 When it comes to your favourite chair… a replacement is often not on the agenda!
It is somewhere you can relax, it's been through good times and bad over the years, it's comfortable and it's part of your home.
Our pictures show a 10 year old chair that has never been cleaned and has been used every day by a person in their 80s who is blind and lives on their own. 
The before picture shows how greasy and dirty the chair is and the after picture shows this is all removed, anti-bacterialised and the fabric refreshed.
If you do not wish to replace your favourite chair for a new, stiff seating arrangement please call Stuart or Jill today and we will be delighted to give you free advice and quotation and we will give your chair a new lease of life and bring back it's former glory.