Professional ph Neutral Upholstery Cleaning
SJS Carpet Cleaning are fully trained experts in upholstery cleaning and during our work, we come across many stained sofas and armchairs where the wrong types of cleaning have been carried out.
The biggest problem we come across, is the one left behind by the DIY Hired carpet cleaning machine which leaves a high alkaline in the fabric which actually attracts dirt and stains. This picture is a good example.
Here's how we do it:
You get a complete NCCA accredited inspection first before we clean the fabric with our powerful texatherm system, using pre-treatment spray to break up the dirt before we apply a cleaning solution
We then clean by hand all stains and then our high pressure hot water extraction machine to clean the upholstery with a rinsing agent to rinse the fabric and return the PH to neutral and residue free and then groom your upholstery back into its original shape.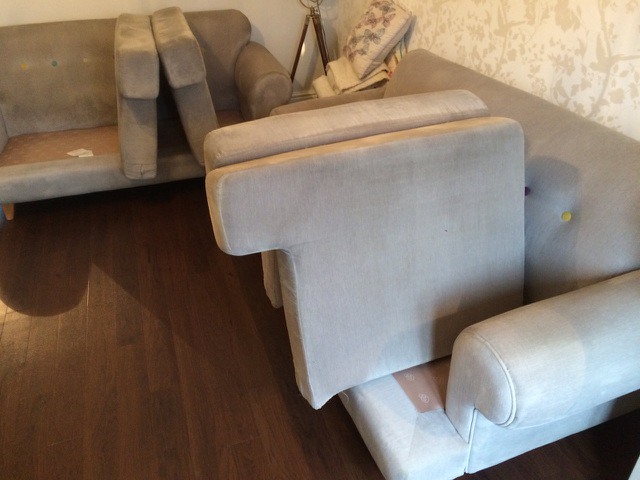 The sofa in the front we cleaned, the sofa at the back of the picture is how it started!
Anything in fabric or leather can be cleaned using this method. This will include all your Settees and Sofas, Dining chairs, Caravan seating and even Car seats.
If you would like a completely free and no obligation NCCA upholstery review in the Leicester or Loughborough areas, please call us on