Stone Floors Cleaned Loughborough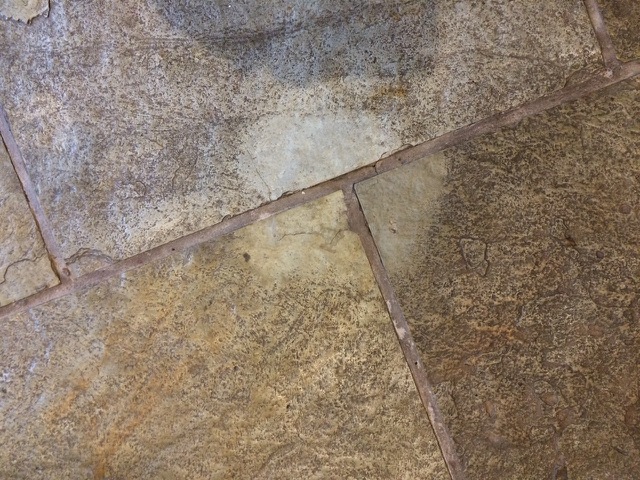 Cleaning a stone floor with a bucket and mop is only a surface cosmetic clean. After the first dip with the mop, you are only spreading bacteria into the cracks and crevices as you go. A mop or micro cloth will remove surface spills and give a uniform look of being clean – from a distance. But the small pores in the stone surface collect dirt and bacteria particles over time.
The stone surface gradually dulls and very slowly gets darker from the dirt gathering in the pores. This happens so slowly that you won't notice any change in the colour or looks at all.
Here is what we mean:  When a small section is cleaned right into the pores, you can really see the difference between that and the rest of the 'clean' floor.  In this picture, the homeowner thought her stone floor was clean, until we cleaned a small section at the corner where 4 stone tiles meet.
Specialist Stone Floor Cleaning
We have offices in both Loughborough and Leicester and happy to visit and show you the difference our cleaning system will make. The SJS stone floor cleaning service will deliver a thorough clean, bringing your beautiful stone flooring back to its original lustre again.
Which stone materials can be cleaned?
SJS can achieve this beautiful clean finish in all these different stone materials:
Flagstone, Slate, Travertine, Limestone, Sandstone, Ironstone, Marble, Granite, Terracotta, Quarry tiles and ceramic tiles.
We cover all the surrounding villages and towns, so if you need your stone floor cleaning, Call us today for a no obligation site visit and free quotation
Tel: Leicester 01162 987 082 or Loughborough 01509 215 858