Curtain Cleaning In-Situ Leicester & Loughborough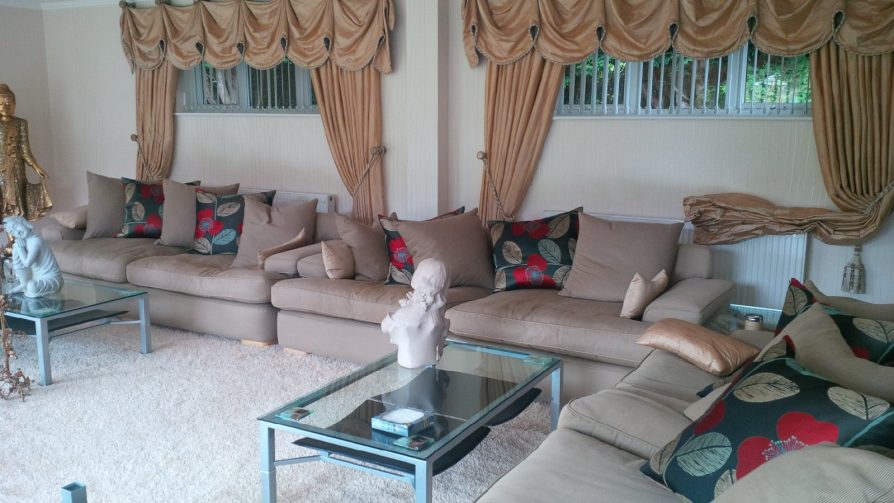 ---
Curtain Cleaning In-Situ -Leicester & Loughborough
Do you dread the day you need to hang the Christmas decorations because of the spiders and cobwebs lurking under the pelmet and in the creases of the swags and tails? Help is at hand!
Curtains Dry Cleaned In-Situ
SJS can pop in and clean your curtains IN-SITU, with no need to remove anything or do any re-fitting of complicated and heavy swags and tails. First, we test the fabric for colour fastness and shrinkage, and then we dry clean them in position.  The last process is to steam and re-press all the creases in position, making them look brand new again – and free of spiders.
Cleaning Upholstered chairs
We can also give all your upholstery a new lease of life, whether it is an antique queen Anne chair, or a Chesterfield, or just a comfy old favourite chintz sofa.
We clean deep inside every crease, fold and ruffle, around all the corners of your chairs and even under the cushions, leaving everything clean, fresh and free from all bacteria and allergens – including MRSA.
Protecting Your Visitors at Christmas
All this will help to protect all your visitor at Christmas. Protecting older relatives and allergy or Asthma sufferers from bacterial infections as well as any babies and young children with immature immune systems.
Protecting Cancer Sufferers from Bacteria
Anyone going through Chemotherapy or radio therapy will have no immune systems that can fight off bacterial infections, so cleaning your curtains, chairs and carpets is a great way to assist them in their recovery.
Why not give us a call and find out how we can help your family at this important time of the year?  \you can contact us here:
For advice or a free quote contact us on