Natural Stone Floor Clean and Reseal Leicester Loughborough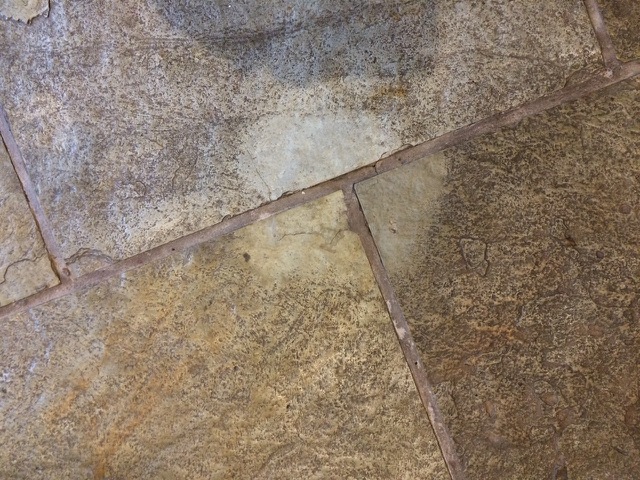 Natural Stone Floor Clean and Reseal Leicester Loughborough
Natural stone flooring is an investment for any property, and it will last far longer than the current décor, so it needs to be kept in good condition to keep its fabulous looks for many years. If it was installed more than five years ago, it's a good idea to get it re-sealed which will make it easier to clean every day. Look at this picture and see the small square in the centre cleaned by us…

Stone Floors Stripped, Cleaned & Re-Sealed
Marble and limestone floors have hundreds of tiny pores, dips and cracks in the surface of the stone, where particles of bacteria and dirt gradually build up over the years. Mopping the floor doesn't get into these fissures and only removes dirt from the top layer of stone. This is the difference that SJS will make, with special solutions and machines that will deep clean into these fissures, bringing back that first day showroom shine, and then sealing them so that they don't fill up again for another few years, as the sealant is gradually worn away. Our process will remove all bacteria – including MRSA – and then seal it at an affordable cost.
SJS are Senior Members of the NCCA
We are trained, experienced and accredited to clean all these types of natural stone:
Victorian Ceramics, Flagstone, Travertine, Limestone, Sandstone, Ironstone, Marble, Granite, Slate, Terracotta, Quarry tiles, and modern Ceramic tiles.
TOP TIPS
Make sure that your domestic vacuum cleaner is suitable for hard floors – it should have a setting that sets down the cleaner head or wheels so that it doesn't won't scratch your wood, laminate or stone surface.
Always dry mop first, followed by a PH Neutral cleaner because acidic cleaners can etch into the top surface and create permanent damage.
Rinse the floor with clean water to mop away any excess cleaner and dirt which will otherwise dry in streaks on your floor.
Then wrap a clean dry cloth over the mop head and buff dry to prevent water marks.
We have offices in Leicester and Loughborough and cover all the surrounding areas, so if you would like advice on how to clean, restore or re-seal your stone floor contact us today for a no obligation home or business visit, for our best advice and a completely free quotation.