Oriental Rug Cleaning in Leicester
 Cleaning an Oriental Rug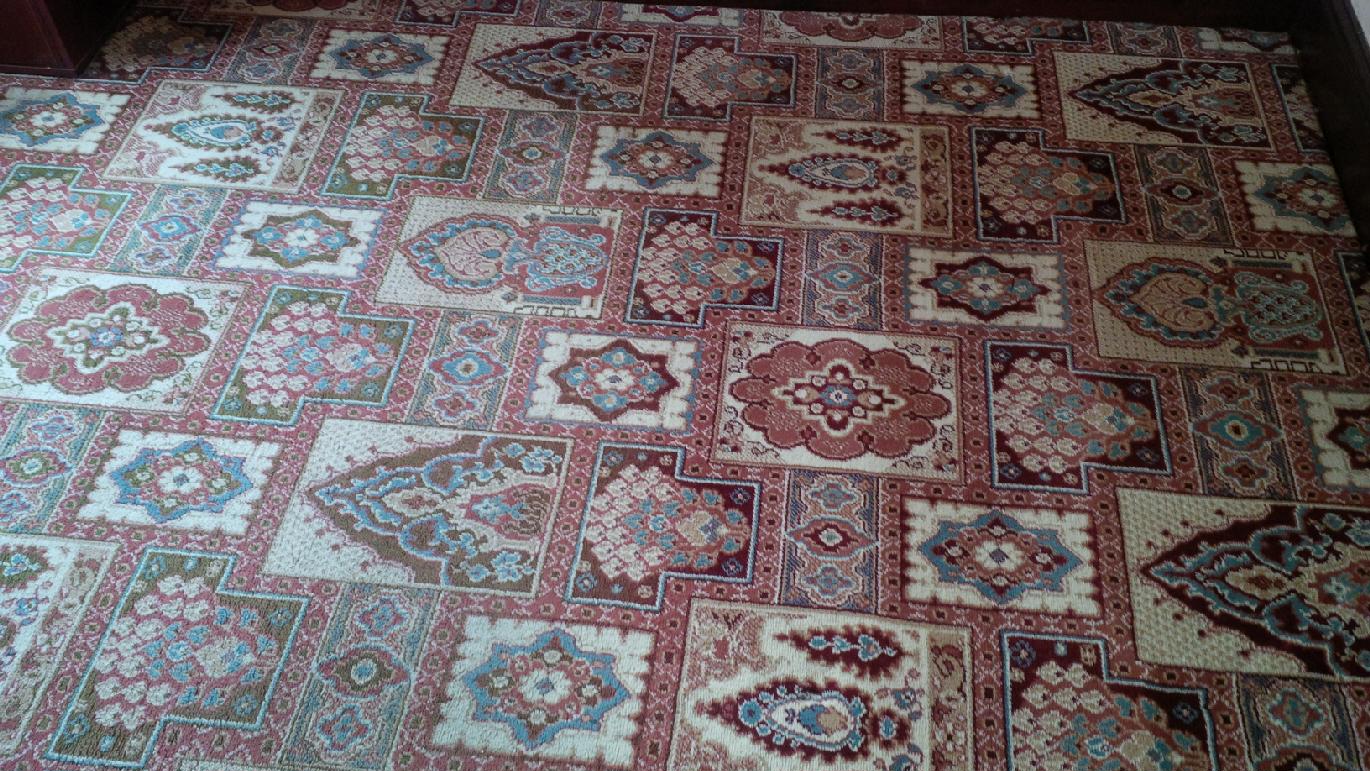 This picture is a before and after to show you the difference we can make. The left side is 'before' and the right side is 'after' we cleaned it, bringing out all the original beautiful jewel colours again that had dulled with dirt and grime.
Specialist rugs are always a good investment, especially when you buy them on your travels or on a cruise. You can find beautiful examples of hand made craftsmanship that are just not available in and around Leicester.
Whether it is an Egyptian, Chinese, Indian or Persian rug; they are all defined as 'Oriental' which means; woven by hand in natural fibres from any country in The Far East, Middle East, and the Balkans.
You can always tell if it is a real Oriental rug by the way it has been made. Some shops sell rugs labelled as Oriental Rugs, that are made on machines, so here's how to tell:
They should be flat-woven or hand-knotted. A hand-knotted rug has strands of yarn tied into the flat weave of the fabric, which then creates a pattern with a pile.
Any genuine Oriental rug, can last for a lifetime if they are properly looked after, so this is why they are always an investment opportunity and something of value to hand down to the next generation.
Oriental rugs are certainly not cleaned the same way we do ordinary carpet. Because their construction process is different to your laid carpets, they need a specialist trained carpet cleaner who knows how to protect your investment. This is what we do:
1.First we need to look at it and then usually take it away to treat it and return it fully cleaned. The reason for this is we need to treat a small area and leave it for 24 hours to ensure that the colour won't run or bleed, and the shape won't distort or ripple from the moisture.
2 We need to do this at our premises in case the carpet it rests on reacts to the process we use. We don't want to damage your wall to wall carpet.
3. We may need to treat the fringes differently and a delicate silk has to be done carefully in peace and quiet, to avoid distorting the pile.
4. we then select the appropriate products to clean it, keeping the integrity of the colours and the consistency of the pile, followed by a protector solution to keep it looking at its best.
which is why it is best for us to take it away rather than keep driving to you separately to complete each stage, and having to take our complete range of solutions along with us. There are some rugs that we can clean in situ, but we need to come and establish this with a visit. Once we can see and feel it, all this will be explained to you, depending on the properties of each rug.
We can also show you pictures of rugs we have cleaned, before and after, so you can be fully confident in our expertise and experience. So to discuss your rug, just give Stuart or Jill a call on: Tel: 01162 987 082 or 01509 412 797 


Or visit our Facebook page SJS The Professional Carpet Cleaner and leave us a comment, or speak to us on Twitter: @SJSCarpetClean